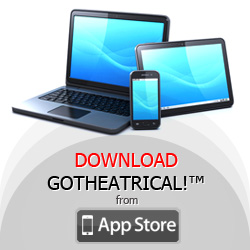 GoTheatrical! Theatre Captioning App:
To download our GoTheatrical! theatre captioning app to your iPhone, iPad or iPod Touch, please visit The App Store.
Once on the App Store search for GoTheatrical and you'll find our app.
GoTheatrical! is now also available on GooglePlay.
You can use the App to view captions at live theatre performances across Australia.  Simply check out the list of shows displayed in the App.  If you want to see what the captions will look like before you visit the venue, simply scroll to the bottom of the list of shows and select Test Captions.
GoTheatrical! Audio Description App:
Coming very soon to The App Store and GooglePlay.